Major depressive disorder (MDD) is a significant global health concern, affecting over 280 million people worldwide.
While numerous pharmacological options exist, challenges remain in achieving timely, robust, and sustained antidepressant response.
Dextromethorphan-bupropion is a novel oral antidepressant recently approved by the FDA for MDD in adults that may address some of these unmet needs.
Key Facts:
Dextromethorphan is an N-methyl-D-aspartate (NMDA) receptor antagonist and sigma-1 receptor agonist that modulates glutamatergic signaling. Bupropion increases dextromethorphan bioavailability through CYP2D6 inhibition.
Two phase 3 trials demonstrated significant improvement in depressive symptoms with dextromethorphan-bupropion versus placebo starting at week 1.
Remission rates approached 70% and response rates exceeded 80% after 12-15 months of treatment in open-label studies.
The most common adverse events were dizziness, nausea, headache, and dry mouth. Dextromethorphan-bupropion was well tolerated without reports of concerning side effects seen with other fast-acting antidepressants.
Source: Clinical Psychopharmacology & Neuroscience (2023)
How Auvelity (Dextromethorphan-Bupropion) Works for Depression (Mechanism of Action)
The combination tablet contains dextromethorphan hydrobromide 45 mg and bupropion hydrochloride 105 mg in an extended-release formulation.
Dextromethorphan is an uncompetitive N-methyl-D-aspartate (NMDA) receptor antagonist and a sigma-1 receptor agonist.
The modulation of glutamatergic neurotransmission via these mechanisms is believed to confer rapid antidepressant effects.
Bupropion serves to inhibit dextromethorphan metabolism by the CYP2D6 enzyme system, increasing its bioavailability.
The combination provides complementary pharmacologic activity for potential synergy in treating major depressive disorder.
Auvelity (DXM-Bupropion) Clinical Trial Evidence
The efficacy of dextromethorphan-bupropion was demonstrated in two pivotal phase 3 randomized controlled trials in adults with MDD.
The trials had similar designs comparing dextromethorphan-bupropion to placebo over 6 weeks.
In the first trial, 328 patients were randomized 1:1 to dextromethorphan-bupropion or placebo.
Dextromethorphan-bupropion resulted in significantly greater improvement on the Montgomery-Åsberg Depression Rating Scale (MADRS) total score starting at week 1 and at every subsequent timepoint compared to placebo.
Remission rates were 39.5% with dextromethorphan-bupropion versus 17.3% for placebo at week 6.
The number of patients achieving a clinical response was also significantly higher with dextromethorphan-bupropion.
The second trial had 315 patients randomized to the same treatment arms.
Similar to the first trial, dextromethorphan-bupropion was associated with significantly larger MADRS score reductions versus placebo beginning at week 1 through the end of the 6-week trial.
Significantly higher remission and response rates were seen with dextromethorphan-bupropion at all timepoints measured.
In both clinical trials, dextromethorphan-bupropion demonstrated rapid, robust antidepressant effects compared to placebo in patients with MDD.
The separation from placebo occurred as early as week 1, which is faster than commonly used antidepressants like SSRIs.
Dextromethorphan-Bupropion (Auvelity) Long-Term Studies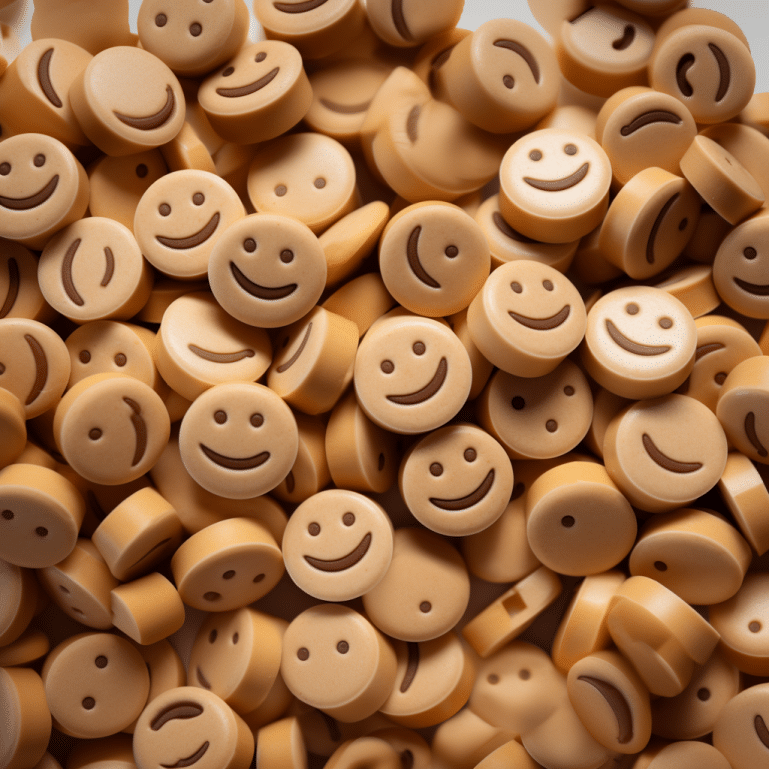 The long-term effectiveness and tolerability of dextromethorphan-bupropion was also assessed in open-label extension studies up to 15 months.
In one open-label study, 611 patients took dextromethorphan-bupropion for up to 12 months.
Substantial mean reductions in MADRS scores seen during the initial 6 week trial were maintained at every study visit through 12 months.
After 12 months, 82.8% of patients met criteria for clinical response and 69% were in clinical remission.
Another open-label study treated 145 patients with dextromethorphan-bupropion for up to 15 months.
Again, the significant improvements in depressive symptoms observed early on were sustained over the course of long-term treatment.
Remission and response rates at month 12 were 67.5% and 81.9%, respectively.
Together, these open-label studies provide evidence that the therapeutic benefits of dextromethorphan-bupropion persist with longer-term use for over a year.
The high remission and response rates support dextromethorphan-bupropion as an efficacious long-term oral antidepressant treatment option.
Safety & Tolerability of Dextromethorphan-Bupropion (Auvelity)
Dextromethorphan-bupropion was generally well tolerated in clinical trials.
The most common adverse events were dizziness, nausea, headache, diarrhea, dry mouth, decreased appetite, anxiety, and somnolence.
Most adverse events were mild-to-moderate in severity.
There were no clinically concerning adverse events that have limited other fast-acting antidepressants like ketamine and esketamine.
Psychomimetic effects, dissociation, sedation, and abuse potential were not observed with dextromethorphan-bupropion.
Discontinuation rates due to adverse events were low and similar to placebo.
Notably, dextromethorphan-bupropion was not associated with concerning side effects of weight gain or sexual dysfunction which are problematic with some commonly prescribed antidepressants.
It also does not prolong the QT interval or lower the seizure threshold like some other antidepressants.
Overall, dextromethorphan-bupropion exhibits a relatively favorable safety profile.
The combination formulation allows efficacy to be achieved at doses of the individual components that avoid dose-dependent adverse effects.
Dextromethorphan-bupropion appears to be well tolerated both in short term and long term studies.
DXM-Bupropion (Auvelity): Oral Fast-Acting Antidepressant
Dextromethorphan-bupropion addresses a significant unmet need as the first oral fast-acting antidepressant medication.
The quick onset of efficacy and ability to rapidly get patients into remission differentiate it from existing options.
Its oral route sets it apart from intranasal esketamine, the only other rapid antidepressant approved for treatment resistant depression.
The oral administration and lack of sedation or dissociation side effects eliminates the need for administration under supervision.
As an oral agent, dextromethorphan-bupropion may be preferred by patients over intravenous antidepressants like ketamine or brexanolone which require administration in a healthcare facility.
While additional comparative data is still needed, dextromethorphan-bupropion appears well positioned as a first line oral antidepressant for MDD based on the clinical evidence thus far.
The combination formulation offers a novel mechanism of action that may benefit patients who have failed to respond to or tolerate standard antidepressant monotherapies.
The rapid onset of action could help in reducing suicide risk among severely depressed patients and shorten disability durations.
Earlier response may improve patient adherence compared to antidepressants that can take 4-6 weeks to work.
Dextromethorphan-bupropion will provide psychiatrists and healthcare providers another option in their toolbox to tackle the substantial public health issue of major depressive disorder.
More widespread use in clinical practice will better define where it is most impactful in the depression treatment paradigm.
Ongoing Questions about DXM-Bupropion
While dextromethorphan-bupropion shows promise, there are still unanswered questions regarding its potential role in depression management.
How does it compare head-to-head against standard antidepressants for efficacy and tolerability?
Is it effective for treating depression in patients with substance use disorders given dextromethorphan's abuse potential?
Does it retain efficacy and tolerance in patients with treatment resistant depression who have failed other antidepressant therapies?
How does route of administration and adverse effect profile influence patient preference compared to intravenous ketamine and intranasal esketamine?
What is the relapse rate after discontinuation of treatment? Can it help maintain longer term remission like other antidepressants?
Further research should address these areas to better establish where dextromethorphan-bupropion is most useful among the wide range of antidepressant options available.
Additional evaluation of efficacy for anxiety, cognition, and physical functioning may also expand its clinical utility.
Dextromethorphan-Bupropion Combo: Another Antidepressant Option
In summary, dextromethorphan-bupropion is an exciting new oral antidepressant option that has demonstrated rapid and robust efficacy along with favorable tolerability.
Its unique mechanism provides hope for better outcomes in patients unsatisfied with current depression treatments.
While more comparative data is still forthcoming, dextromethorphan-bupropion appears poised to make a significant impact in the pharmacological management of major depressive disorder.
References
Authors: Brian McCarthy et al.
Related Posts: