Here is a list of products that I've personally used to help improve my mental health and/or cognitive performance.  I think that you may find them helpful as well. Check them out.
The Journal Software
Maintaining a journal can be incredibly therapeutic.  Whether you're trying to track how a particular medication is affecting your mood, weighing the pros and cons of a particular treatment, or are going through a drug withdrawal, having a journal can serve as a safe haven for self-expression and venting.
I have been journaling for years for 5 to 10 minutes each morning.  This allows me to unload (or at least lessen cognitive burden of) any stressors, document things I'm grateful for, and track progress in various areas of life.  If you would like to do something similar, The Journal software is your best bet.  Read my review of The Journal.  You can also get a 100% Free 45-Day Trial.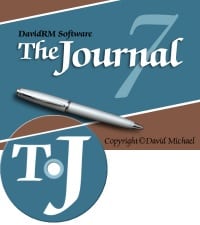 ---
EmWave2
Low heart-rate variability is scientifically associated with early mortality, physical health problems, and poor mental health. The emWave2 serves as a biofeedback device to help you improve your heart-rate variability. The heart is responsible for sending a significant number of signals to the brain and throughout the rest of the body.  There is good science in support of the device and many have found it helpful for improving their mood, their ability to relax, and physical health. Read my emWave2 review.
---
Inner Balance
This device is similar to the emWave2 except it's designed for the iPhone or iPad. It is also cheaper by price, but doesn't plug into your computer like the emWave2. I prefer the emWave2 because I enjoy using the software various biofeedback visuals that are included. Nothing wrong with the Inner Balance though, it does the same thing… you just don't get the nice software and as extensive of information about your session.
---